Amam Manifesto – Chapter 2 [AMAM]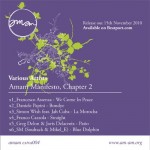 Tracklist:
1. Francesco Assenza "We Come in Peace"
2. Daniele Papini "Bondye"
3. Simon Wish feat. Jah Cuba "La Morocha"
4. Franco Cazzola "Straight"
5. Greg Delon & Joris Delacroix "Patio"
6. SM (Soulrack & Mikel_E) "Blue Dolphin"
Cat.: AMAMEXTRA04
Feedback:
Played & Supported by: Marco Carola, Santos, Daniel Sanchez, Adultnapper, Luca Bacchetti, Kaiserdisco, Hugo, Carlo Lio, Gregor Tresher, Marc Antona, Toni Rios, Martin Eyerer, Bloody Mary, Alex Celler, Jorge Savoretti, Mihai Popoviciu, Someone Else, Marko Nastic, Sian, Bryan Zentz, cesare vs disorder, Doomwork, Claudio Coccoluto, Matteo Milleri, Andrew Grant, Marcus Vector and more…
Marco Carola – nice track!
Santos – BONDYE thanks
Daniel Sanchez – thanx amam, great pack here!
Adultnapper – good set of dj tools here. personally like Simon's cut the most. really strong drum programming and production. nice work.
Luca Bacchetti – Excellent Ep! in my HD!
Kaiserdisco – lots of cool stuff here! will try them all out. thx
Hugo – big big big! full support. thanks
Carlo Lio – we come in peace is dope!.. bondye is really dope
Gregor Tresher – Good stuff!
Marc Antona – Daniele Papini rocks ;)
Toni Rios – patio perfect for my set. nice track.
Martin Eyerer – daniele rocks this package! Thx
Bloody Mary – lovely pack thx!!
Alex Celler – Francesco Assenza "We Come in Peace" great track! will play for sure ! thanks a lot for sending.
Jorge Savoretti – super groovy as usual from amam! can't pick a fav
Mihai Popoviciu – like the percution on blue dolphin!
Electric rescue – support patio from greg delon et joris delcroix, but others are cool too
Someone Else – this release is great.
Marko Nastic – full support!
Sian – solid tracks.liking the Papini especially!
Bryan Zentz – my fave here is from my cray1 homies SM, really cool and trippy. also digging simon wish's track with that bassline…
cesare vs disorder – big record.will play a few from here.thanks
Andrew Grant – wonderfull music!!!!
Doomwork – Absolutely Amazing package! Full Support!!!
Claudio Coccoluto – Bondye is great, thanx
Markantonio – nice stuffs here support
Matteo Milleri aka Tale Of Us – La Morocha, deep & soulful really like it
Marcus Vector – i like all tracks in this superb pack good job guys!! will play and chart
Dave Turov – Solid chunky tech house all around. Thanks.
Danny Howells – Some killers here, thank you!!