Morning Tools Vol.8 [Sleep is Commercial]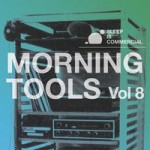 "Morning Tools" is a Free Download Series, which is an omage to the sleepless tribe in the pure love&sharing style Sleep is Commercial.
This volume sign the beginning of a collaboration with two great artists and friends as Marko Nastic and Marascia, placed side by side with two new projects from the young talent made in England R.A.W. and the Rome based duo Valerio Zero & Alessandro Angiolillo.
.
.
Tracklist:
1 – Marko Nastic – Escape
2 – R.A.W. – Feel My Love
3 – Marascia – Isteric
4 – Valerio Zero & Alesandro Angiolillo – Deep In Terrazza
attend > share > download > enjoy!
informazioni Download:
http://www.sleepiscommercial.com/free_digital/va_morning_tools_vol8_sicfd08.zip
www.sleepiscommercial.com