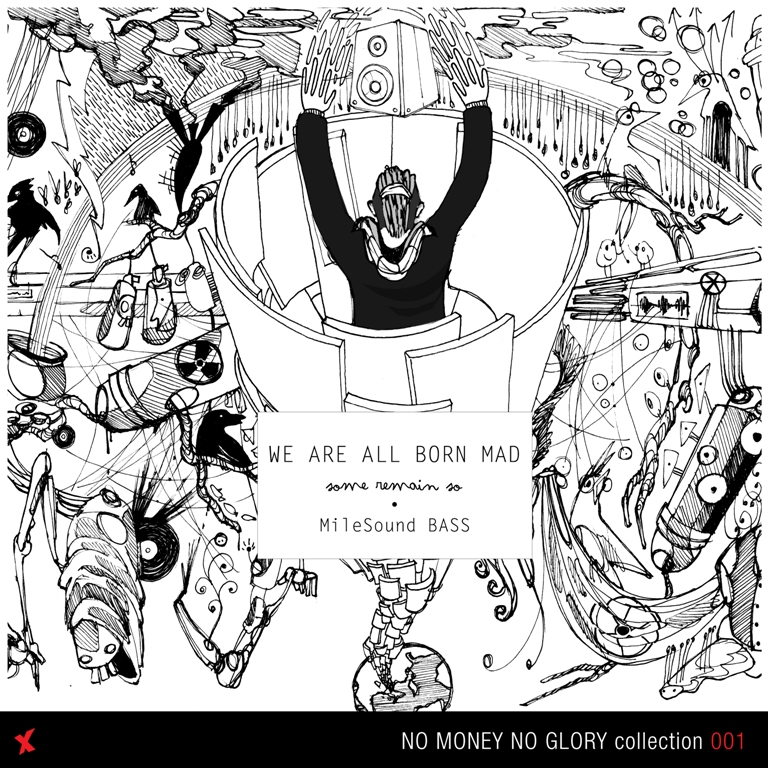 MileSound BASS – We Are All Born Mad [Rxstnz]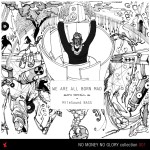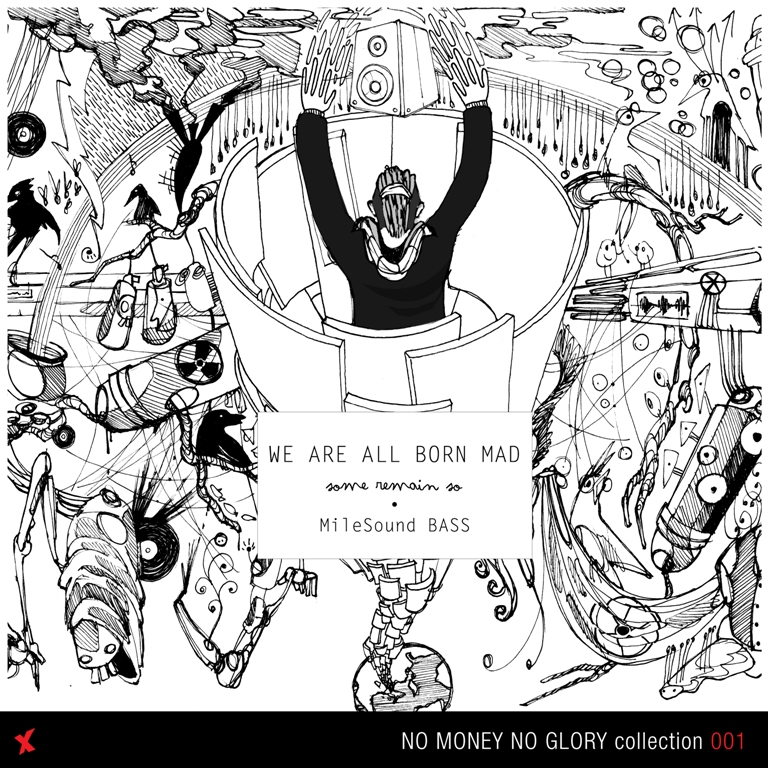 "Primo album della nuova collana "NO MONEY NO GLORY".
Rxstnz è lieta di presentare questo eccezionale concept album di musica elettronica, realizzato da uno degli artisti più attivi e appassionati che abbiamo avuto il piacere di conoscere nella nostra zona.
Come dice il titolo: We Are All Born Mad, Some Remain So (Samuel Beckett, Waiting for Godot) ) Siamo totalmente d'accordo con questo e noi lo sosteniamo, sperando che facciate lo stesso"
First album of the new NO MONEY NO GLORY series.
Rxstnz is glad to introduce this outstanding bass music concept album, made by one of the most passionate and hard-working artists we had the pleasure to know in our area.
As the title says: We Are All Born Mad, Some Remain So
(Samuel Beckett, Waiting for Godot)
We totally agree with this and we support him, hoping you will do the same.
Bio: Miles Sound Bass nasce come Gianluca Suanno, nel 1988. Nel 2002 ho cominciato a ascoltare rap e a produrre beat per me stesso e per le canzoni dei miei amici di Pioltello – città della periferia di Milano che da sempre mi fa da sfondo. Ho sempre apprezzato la musica classica e il soul; infatti le mie prime produzioni erano ampiamente influenzate da questi generi, tanto da arrivare a distanziarsi dal classico rap.
Con il passare del tempo mi sono avvicinato a molti altri generi. Due mesi trascorsi a Londra mi hanno poi catapultato nel panorama della musica elettronica, che ho cominciato ad esplorare, arrivando a dedicarmi al djing, ed alla produzione dei brani del primo disco : "mileSound BASS – Logical Progression", uscito con Ephedrina Netlabel (Creative Commons) a fine 2011.
Da gennaio a giugno 2011 ho frequentato la SAE, diplomandomi con 100/100 nell'EMP ( Electronic Music Production), parallelamente ho collaborato al mixtape rap "Souldato" di SoulSwitchOn, mio socio di vecchia data. Con lui ho fondato il progetto UFO Prjct, e sempre con lui e Charly, abbiamo creato la Fahrenheit 451 crew. Loro portano la voce, io la musica.
Mentre "Logical Progression" era in fase di pubblicazione, ho iniziato ad approcciarmi ad altri generi musicali e ho realizzato molte canzoni. Alcune di queste sono racchiuse nell'ep Gates To The Unknown. Il disco è uscito con ArtAk Netlabel ( Creative Commons ).
Nella seconda metà del 2012 ho cominciato a lavorare, separatamente, con un team di lavoro guidato da un pianista del conservatorio (Progetto ControTempo); con un gruppo jazz milanese, i Blu Klein; con Spiro Oblium, artista darkpsy svizzero; e con altri musicisti molto validi.
L'inizio del 2013 vede l'uscita del mio nuovo disco "WE ARE ALL BORN MAD, some remain so" (RXSTNZ rec), titolo preso in prestito da S.Beckett " Waiting For Godot".