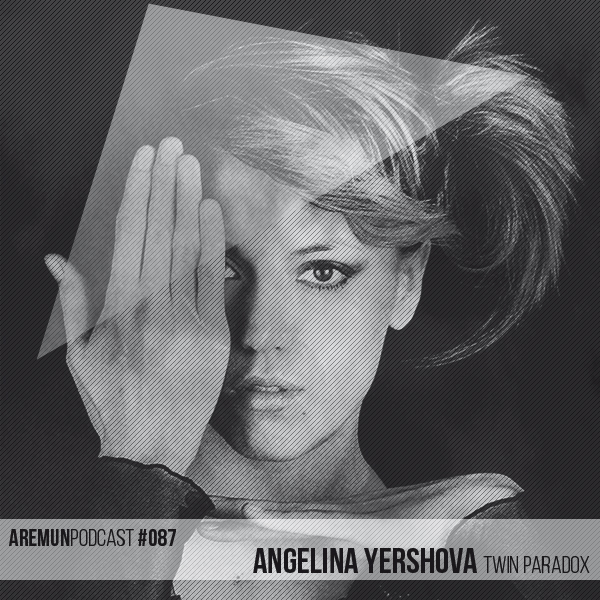 Aremun Podcast 87 – Angelina Yershova (Twin Paradox Records)
Angelina Yershova is a composer, pianist, producer, singer, sound artist and improviser. Classically trained, she has developed her own musical language, a unique and deeply personal world that orbits freely from Classical and Contemporary music to Experimental Electronic music, and that does not conform to any stereotype or cliché.
Angelina has graduated at the Kazakh National Conservatory of Music Kurmangazy (Almaty), specialising in Piano Performance and Composition. Graduated with maximum score and honor at the K.Baiseitova Republican Musical College specialising in choral and symphony orchestra conducting. Has obtained a degree in Electronic Music at the Conservatory of S.Cecilia (Rome). She has participated to several prestigious international festivals: International Rostrum of Electroacoustic Music (Lisbon), Staten Island Waterfront Festival (New York), Nuova Consonanza (Rome), "EMUFest" International Electroacoustic Music Festival (Rome), "Musica Viva" (München), "Musica Verticale" (Rome), "OLE Festival" (Naples) International Festival of Electronic Literature, "Ilkhom-XX" Internationl Festival of Contemporary Music (Tashkent ), Trans Art Internationl Festival of Contemporary Performing Arts (Almaty) and many others.
Her distinctive musical style has naturally led her to become in demand as a composer for movies, TV and theater. She has won awards at the Fond Soros Film Festival (Kazakhstan), and – for her music for the documentary "Herodotus" – at the Shaken's Stars International Film Festival (Kazakhstan). She has worked as a composer for the Almaty Theatre "Scena Nuova" and has written the soundtrack for the movie "Sogni Jurogenovi". Angelina now regularly collaborates as a composer for Italian TV companies RAI and Mediaset, and her music as been used on such programs as "La Tredicesima ora", "Report", "Matador", "Next", "On the Road", "Primo Movimento" and many others.
She has collaborated with composer/inventors Mario Bertoncini and Simone Pappalardo and with DJ/composer Electric Indigo on an experimental project, with rock band Belladonna as arranger and orchestra conductor. In collaboation with Stefano Giovanardi (astronomer of Rome's Planetary) she has founded the Astroconcert project and she has staged "Stellar Vibrations", "Destination Infinity", "Cosmic Echoes", "Voyager Cords", "Aurora Borealis" and "Icy Rose 67P".
Angelina has opened two different channels for her own musical output: "Twin Paradox Records", based in Berlin and focused on her experimental electronic music and "Blind Movie Records", based in Rome and centered on her music for film and theater.
Tracklist
1. Angelina Yershova – Anarchic Piano [Twin Paradox Records TPR004]
2. Electric Indigo – Sept [HET002]
3. Orson Hentschel – Noise of the Light [Denovali Records]
4. Svart1 – II (Electric Indigo Remix) [OVQ002]
5. Dubit – IV [TELEMORPH003]
6. Alina Kalancea – Distant Shores (not on Label – Alina Self. released)
7. Angelina Yershova – Deja Vu Glitch [Twin Paradox Records TPR004]
8. Ken Karter – MX-01.11 [Stroboscopic Artefacts SAM021]
9. Dubit – VI [TELEMORPH003]
10. Ken Karter – MX-04.11 [Stroboscopic Artefacts SAM021]
11. Monolake – Xor [ML027]
12. MimiCof – re-construction – 04 Tunnel Dub Reconstruction
(not on Label – MimiCof Self. released)
13. Angelina Yershova – Immersion [Twin Paradox Records TPR003]
Soundcloud: https://soundcloud.com/angelinayershova