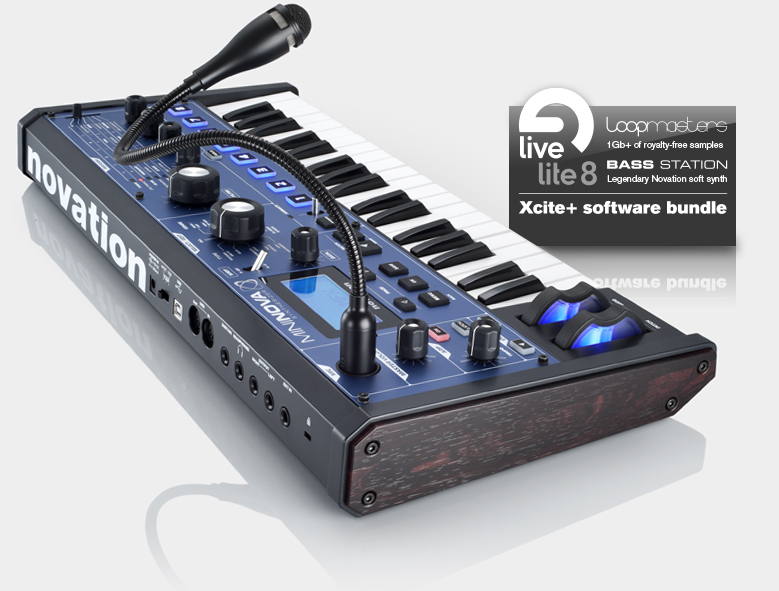 Novation MiniNova Synth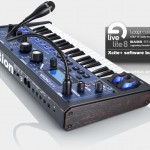 Il nuovo synth Novation con mini tasti full optional
Novation presenta MiniNova, un sintetizzatore potente e compatto che introduce funzionalità mai finora implementate in un dispositivo di questa fascia di prezzo, tra le quali spiccano i controlli 'Animate' e il nuovissimo effetto vocale Novation VocalTune™.
La gamma di sintetizzatori Nova è in circolazione già dalla seconda metà degli anni '90, ma MiniNova ha un'identità di suono che lo avvicina decisamente di più agli anni '70. Il motore di sintesi di MiniNova è stato sviluppato dalla leggenda del synth-design Chris Huggett, che aveva già realizzato in precedenza alcune pietre miliari come Bass Station, SuperNova, Nova e UltraNova. Huggett può vantare decine di anni di esperienza con un ricco curriculum di progetti di successo, tra i quali alcuni autentici classici come EDP Wasp del 1978 e OSC OSCar. Proprio grazie all'esperienza maturata nel settore della sintesi analogica, Huggett ha potuto applicare i principi di sound design acquisiti per lo sviluppo del nuovissimo MiniNova, portando il nuovo synth Novation un gradino al di sopra di molti altri sintetizzatori attualmente sul mercato.
MiniNova is a compact, super-cool studio and live synth with the same sound engine as its big brother; UltraNova. It comes with 256 incredible onboard sounds that you can tweak with five knobs, or totally warp with eight 'animate' buttons. It has up to 18 voices with as many as five synth effects on each sound. MiniNova also has an onboard VocalTune™ effect as well as a classic vocoder so you can recreate iconic vocal sounds from hip hop, urban and electronic music.
Don't let its size fool you. MiniNova is the latest in the 'nova' range of synths dating back to the legendary Supernova series. It has the same incredibly powerful sound engine and synth effects as the Novation UltraNova which means it is capable of creating dirty-fat bass synth sounds, soaring leads, lush pads and vintage synth sounds. All this in a 37 mini-key form with a USB port and MIDI i/o so you can hook it up to your laptop and control your music software or connect it to another keyboard or sound module.
Specifications
Synth engine
Up to 18 note polyphony (dynamic voicing)
Mono-Timbral
Per patch
3x oscillators
1x noise generator
2x ring modulators
Waveforms include:
Square, sine, tri, sawtooth, pulse, 9x saw:pulse combinations.
20x digital waveforms
36x wavetables
Filter types
2x filters per patch
low pass no resonance 6dB per octave
low pass 12dB
low pass 18dB
low pass 24dB
band pass 6:6
band pass 6:12
band pass 12:6
band pass 6:18
band pass 18:6
band pass 12:12
high pass no resonance 6dB per octave
high pass 12dB
high pass 18dB
high pass 24dB
Modulation sources:
20 modulation slots per patch
6x envelope generators
3x LFOs
Aftertouch
Velocity
Key scaling/track
Mod wheel
Expression pedal
Total of 66 Destinations including:
Oscillator pitch, pulse width, wavetable index, level and sync
Filter cutoff, resonance, envelope settings
Effects parameters and send levels
Recursive modulation (modulating modulation sources themselves)
5 effects slots per patch
Distortion – up to 2 instances
Compressor – up to 2 instances
Chorus/Phase – up to 4 instances
Delay – up to 2 instances
Reverb – up to 2 instances
Gator
EQ
Misc
VocalTune
12 band vocoder
Arpeggiator – 33 patterns
Realtime Arp rhythm editing function
Chord function – lock up to 10 notes
Patch storage  – up to 384 on hardware (ships with 256 factory patches)
Hardware:
Utility, display and patch select controls
16 character custom LCD
1x large detented patch select encoder
1x patch sort switch
1x volume dial
1x detented data encoder
5x navigation/utility buttons
2x patch navigation buttons
Keyboard/performance controls
Pitch wheel (LED lit)
Modulation wheel (LED lit)
37 note keyboard with velocity
4x smooth edit/performance pots
1x large smooth filter pot
1x six position parameter selector switch
6x parameter indicator LEDs
8x three-colour, back-lit animate/arpeggiator/favourite patch-select buttons
2x animate/arpeggiate LED indicators
1x back-lit 'hold' button
1x animate/arpeggiator/favourite patch toggle switch
1x 'favourite' patch select button
1x arpeggiator tempo control pot
1x arpeggiator tempo indicator LED
2x back-lit arpeggiator control encoders
2x back-lit octave select buttons
Inputs, Outputs, rear panel
XLR dynamic mic input
1x ¼" jack inputs
2x ¼" jack outputs
1x ¼" jack headphone output
Sustain pedal on ¼" jack input
MIDI in/out
12 volt power input
USB/DC/off power switch
USB port (MiniNova can be powered via USB)
Kensington Lock port
Dimensions
Length: 560mm
Height: 75mm
Depth: 250mm
Length: 22.04″
Height: 2.95″
Depth: 9.84″
Weight
Info: http://www.midiware.com/newcore/index.php?option=com_content&view=article&id=2017:novationmininova&catid=171:slide&Itemid=111