Carl Craig ristampa il suo capolavoro del 1997 "More Songs About Food And Revolutionary Art"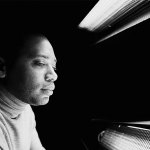 L'album rivoluzionario di Carl Craig pubblicato nel 1997, il quale fù giudicato un punto di riferimento per l'intero movimento di musica elettronica, è stato rimasterizzato per una nuova uscita nei prossimi mesi, su Planet E, sarà una ristampa in doppio vinile, CD e formato digitale.
More Songs About Food And Revolutionary Art sarà composto dalla versione CD conterrà sedici brani tra cui un bonus cut senza titolo, mentre il vinile contiene dodici brani.
Non è stata fornita una data di uscita, ma la ristampa è prevista entro il mese di novembre presso la Planet E, l'etichetta discografica indipendente di musica elettronica fondata nel 1991 a Detroit, nata da un'idea di Carl Craig.
È possibile ascoltare uno dei punti di spicco dell'album, "Televised Green Smoke" di seguito.
Tracklist:
01. Es.30
02. Televised Green Smoke
03. Goodbye World
04. Alien Talk
05. Red Lights
06. Dreamland
07. Butterfly
08. Act 2
09. Dominas
10. At Les
11. Suspiria
12. As Time Goes By (Sitting Under A Tree)
13. Attitude
14. Frustration
15. Food And Art (In The Spirit Of Revolution)
16. Bonus Untitled Track
[via Resident Advisor]