Pressure: The Return
Marcel Dettmann
Slam
After taking a three month summer break from the Arches, Slam are pleased to welcome Marcel Dettmann to play Pressure for the first time. Dettmann's sound is rough, raw and reduced, as anyone who has seen him DJ at the infamous Berghain club in Berlin will testify. As an integral part of the 'Berlin sound' his sets stand tall, delicately referencing techno's history while keeping close to his future minimalist ideals.
Having released his debut album in 2010 on Berghain's label, Ostgut Ton and remixed artists as diverse as Fever Ray, Junior Boys, Modeselektor and Scuba, Dettmann's productions and remixes bring together the extremities of quality electronic music. Dettmann also runs his MDR label, releasing records by Norman Nodge, Wincent Kunth & of course himself.
Sitting at the top of their game, Slam have released two massive records for Drumcode ('Vespula') and their Paragraph label ('The RTM Project') in the last month. Two new EPs are coming in August too. 'Campana' (inc Gary Beck remix) comes out on Len Faki's Figure label and is followed by their new release on Soma, 'Old School Jams for the New Republic'. Immediately after Pressure with Marcel Dettmann, Slam fly to Berlin to play with Len Faki in Berghain.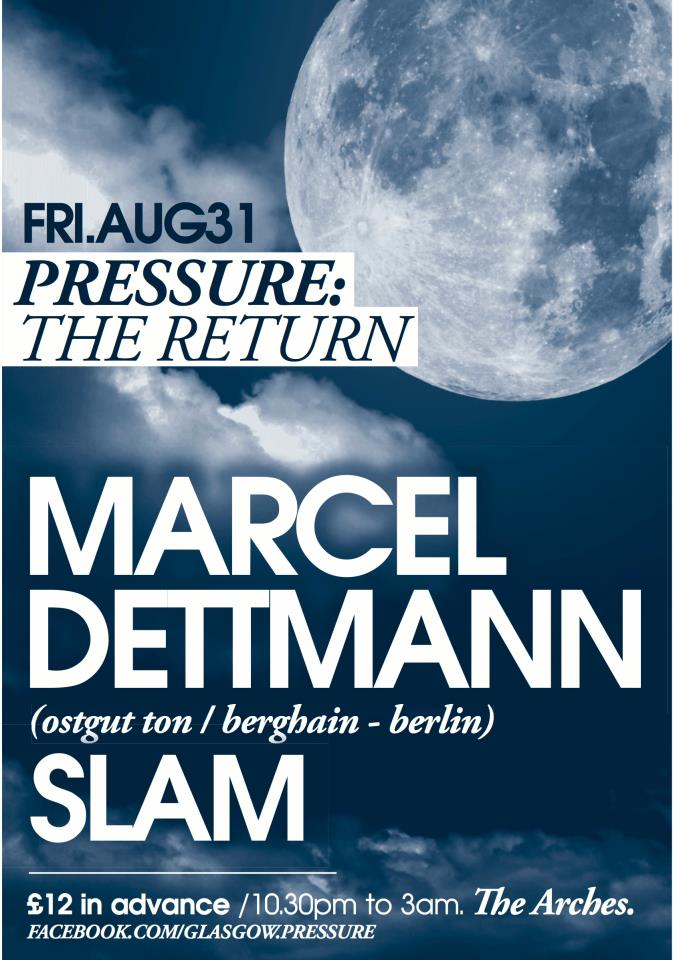 The Arches,
253 Argyle St,
Glasgow,
G2 8DL