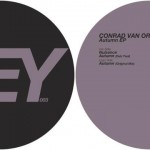 Le strade che si incontrano non sono sempre facili da percorrere. Spesso ci sono molti ostacoli e il sentiero è lungo. Conrad Van Orton è stato in grado di tradurre questo concetto in queste tre tracce. Un EP dove profondità e brillantezza incontrano un techno moderna e innovativa. Sound unico e di alta classe. Il Sound di Key Vinyl!
The road you meet is not always easy! There are many obstacles and often the path is long. Conrad Van Orton is able to translate this in his three tracks. An EP where brilliance and depth come together with modern and innovative techno. Unique and high class sounds!
The sound of KEY VINYL!