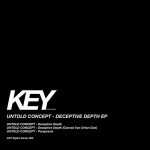 Devastante viaggio di moderna techno, ferro, acciaio graffiante. Non guardarti indietro!
Out Now On Digital – KEY Digital Series 003
Artist: Untold Concept
Title: Deceptive Depth EP
Label: KEY Digital Series
Cat.N: KDS003
Format: DIGITAL DOWNLOAD
Release: 01 August 2012
Tracklist:
Untold Concept – Deceptive Depth (Original Mix)
Untold Concept – Deceptive Depth (Conrad Van Orton Dub)
Untold Concept – Parapraxis (Original Mix)
Devastating journey of modern techno. Iron, steel and scratchy. No looking back !
Played and Supported by Lucy, Luke Slater, Inigo Kennedy, Bas Mooy, Dadub, Psyk, Truncate, Developer, Rebekah, Dimi Angelis, Jonas Kopp, AnD, Puresque, NX1, Angel Molina, Cio D'Or, Ness, Max_M, Deepbass, Xpansul, Anderson Noise, MTD, Paul Boex, Attemporal, Submerge, Positive Merge, Rene Walther, Error Etica, Thomas Hessler, Javier Orduna, Mattias Fridell, Colin Bain, Analog People, Angel Costa, Logotech, Juho Kusti Karhunen, Ikkaku and more.