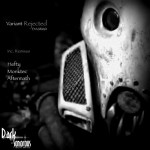 Rejected by Variant with great remixes by Hefty, Monktec and Aftermath. Variant has been deejaying for close to 20 years now and producing for just over 5 years. his style has gone through a lot of progressions over the years, starting back in 92 with the rave scene playing drum n bass hardcore, jungle techno etc, he changed his musical direction in 1994, morphing through all the various genres of house, trance, breaks, and prog house before finally settling on a deep and hypnotic blend of dirty tech house and techno in 2000 and he has not looked back since. A consumate perfectionist, Variant still mixes from vinyl and he says he will do so right up until the day vinyl breathes its last breath in the world. Enjoy.
Name: Rejected
Artist: Variant
Remixers: Hefty, Monktec, Aftermath (UK)
Cat #: DASR061
Genre: Techno, Minimal
Label: Dark and Sonorous Recordings
Release Date: August 1, 2012
Rejected di Variant con i remix di Hefty, Monktec e Aftermath. Variant è stato dj per quasi 20 anni e produce da poco più di 5 anni. Il suo stile è cambiato nel corso degli anni, inizia nel 92 con la scena rave a suonare Hardcore drum n bass, jungle ecc, ha cambiato la sua direzione musicale nel 1994, trasformando attraverso tutti i vari generi di house, trance, pause, e prog prima di stabilirsi definitivamente su una miscela profonda e ipnotica di tech house e techno nel 2000 e non si è guardato indietro da allora. Un perfezionista , Variant mixa ancora con il vinile e farà così fino al giorno in cui il vinile tirerà il suo ultimo respiro. Buon ascolto.
Get your copy here: http://www.beatport.com/release/rejected/945216